Highlights
Located in a significant copper corridor
South of a large Mesozoic igneous intrusive complex and an old vein polymetallic producing district
Massive sulfides assay up to 4.3% copper, 13.3% lead, 7.7% zinc, 3500 ppm silver and 2.4 g/t gold
Large regional magnetic/gravity anomaly complex 8km by 6km in size
Early-stage exploration potential is considered favourable for porphyry and sedimentary hosted gold deposits.
Ideally Located
Road access
No population pressure
Gentle topography
Historic workings on BLM land
Nevada mining culture
The Klondike Property is located approximately 21 kilometres ("km") west-southwest of Tonapah, Esmeralda County, Nevada and roughly 320 km northwest of Las Vegas, Nevada on BLM (Bureau of Land Management) land. It is well located south of a large Mesozoic intrusive complex that border several major porphyry copper deposits in the Great Basin of Nevada and Utah.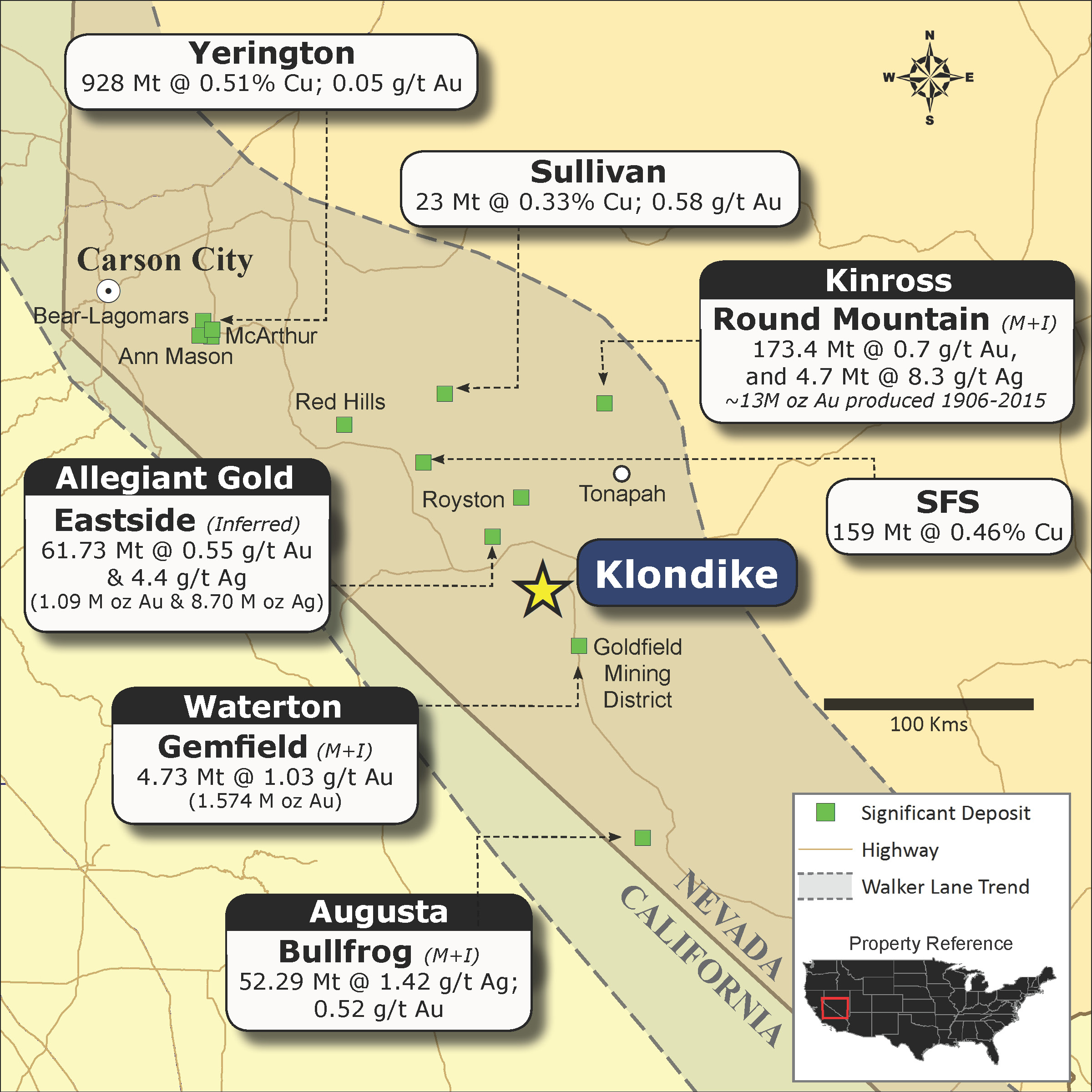 The Klondike Property is easily accessible by road and consists of two blocks of claims totalling 89 unpatented lode claims at the north end of the Paymaster Basin and south the General Thomas Hills area.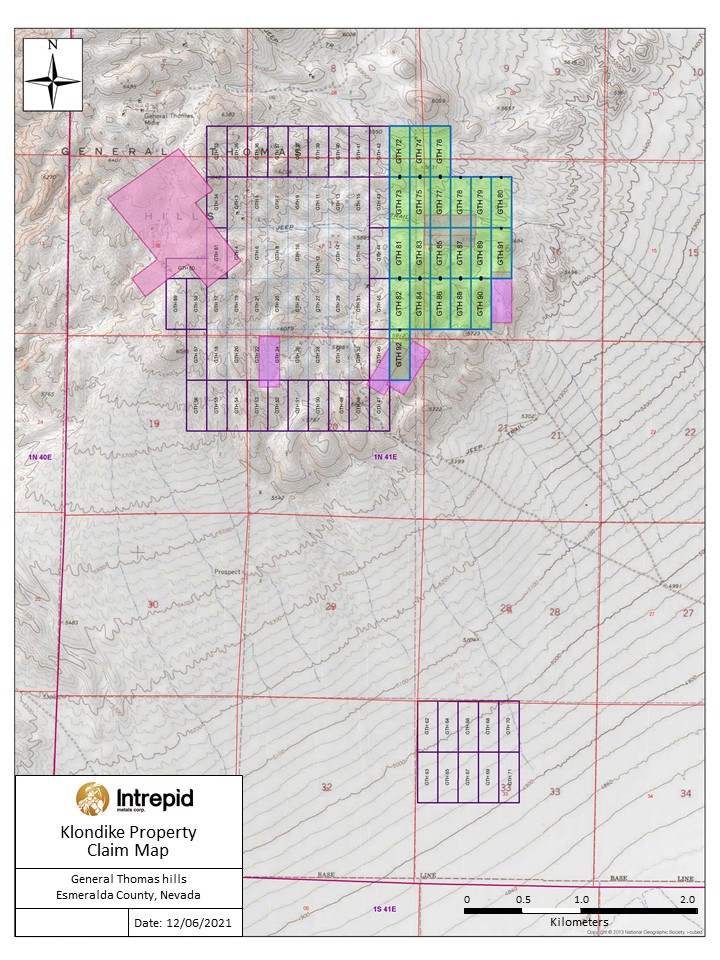 Target
The Klondike Property covers target areas at the center of a very large anomalous gravity/magnetic complex with a roughly triangular configuration approximately 8 km by 6 km in size: one of the largest in the Great Basin province. These are typical geophysical signatures of buried intrusive centers and potential hosts for porphyry copper deposits.
In addition to the magnetic- and gravity-high anomalies, the Klondike Property has several other distinct surface signatures of porphyry-style mineralization including peripheral precious metal-rich copper, lead and zinc veins, stockwork quartz veining cutting porphyry intrusions and sedimentary rocks and distal disseminated gold mineralization hosted in calcareous siltstones. The quartz-feldspar porphyry dikes, sills and plugs intruding Palaeozoic sediments and Mesozoic diorite are probably of Tertiary age, as is the case of the world class Bingham Canyon, Ely and Battle Mountain copper deposits elsewhere in the Great Basin province.
Recent mapping on the Klondike Property has located copper oxides in shallow prospects east and south-east of an operating and long producing turquoise mine in some of the numerous prospect workings that occur throughout the claim block. Some occur in outcrops of porphyry intrusions. At least three phases of quartz veining are noted and mineralized samples collected contain anomalous base and precious metals (Copper to 700 parts per million ("ppm"), Silver to 135 ppm, Zinc to 8400 ppm, Lead to 11,400 ppm, Molybdenum to 322 ppm).
In the southern part of the district, approximately 4.5 km south of the base/precious metal workings, a small iron-rich siliceous outcrop is exposed. Four Reverse Circulation ("RC") holes drilled in the early 1990's to the north of the outcrop intersected significant intervals of low grade Carlin-style gold mineralization in silicified Palmetto siltstone. Mineralization is open to the north and worthy of drilling to discover higher gold grades.
Rock samples with assays quoted above were collected by an experienced professional consulting geologist and placed in individual numbered sample bags with descriptions and locations recorded. The samples were delivered directly to American Assay Laboratories (ISO 17025 Accredited and NDEP Approved) in Sparks, Nevada. Samples were prepared by their standard laboratory techniques and assayed using their ICP-5AOQ35 package.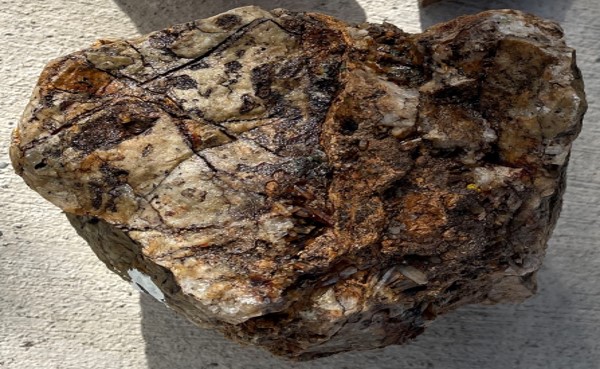 Quartz feldspar breccia sample with Mn & Fe oxide staining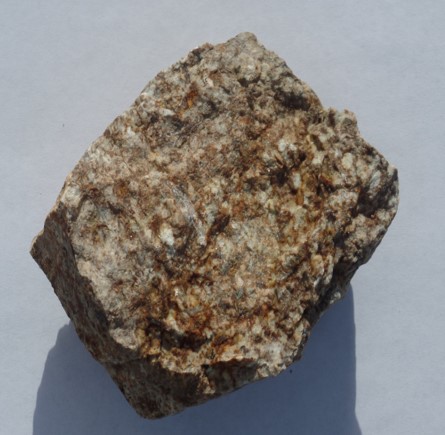 Quartz feldspar porphyry with iron oxide staining
(68 ppm Ag, 870 ppm Pb, 540 ppm Zn)
Intrepid's Plan
Intrepid will be completing detailed property-scale data compilation on the Klondike Property. Field work and additional geophysics that may include radiometric and IP will follow in order to finalize drill sites.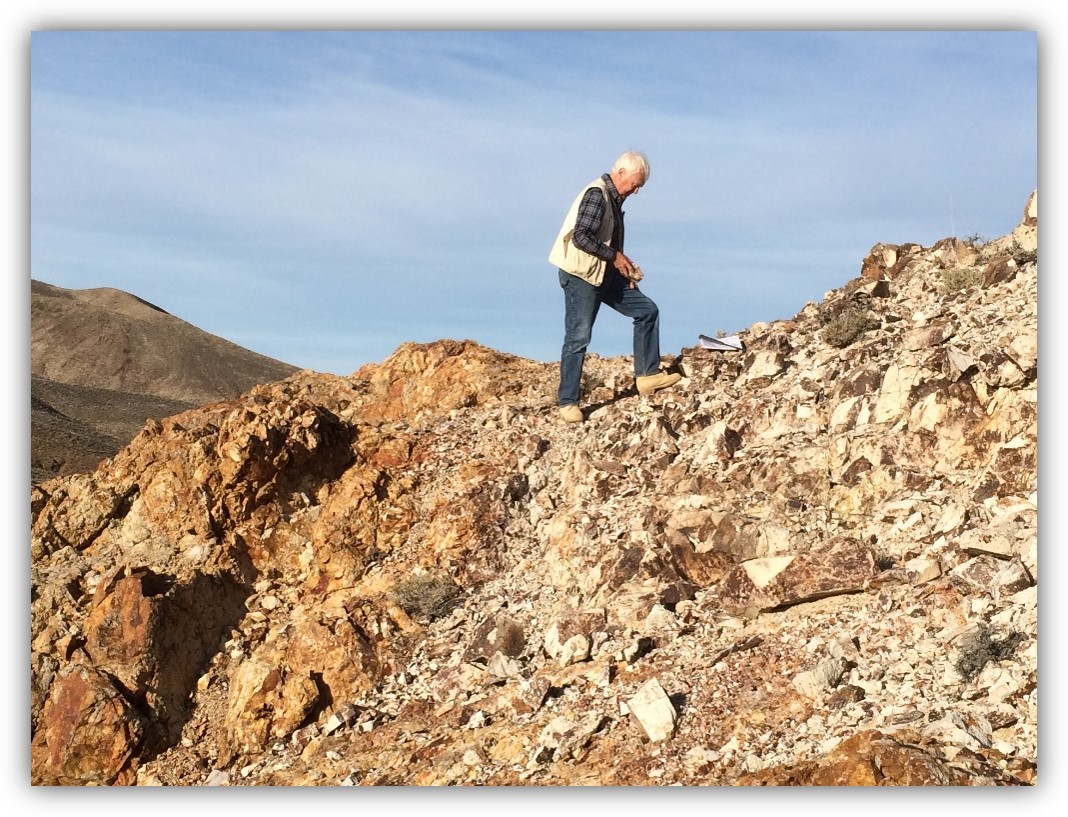 Qualified Person and Disclaimer
The Company's technical work on the Klondike Property is supervised by Dr. Anthony Taylor, a Director of the Company and a Qualified Person as defined by National Instrument 43-101. Dr. Taylor has reviewed and approved the technical information contained in this news release.
The completion of the acquisition of the Klondike Property is subject to customary closing conditions including execution of a definitive agreement, regulatory approvals and closing of the Company's change of business transaction to become a mining issuer.