Highlights
Over 50,000m of historical drilling has been completed within the district, with near surface mineralization of copper, silver, zinc and gold, including 126.2 metres of 1.24% copper
Robust land package of over 8,500 acres (13 square miles) of mineral rights
Anglo American retains an interest on a portion of the project
Ideally Located
The Corral Copper Project is located in Cochise County, Arizona, 15 miles east of the famous mining town of Tombstone and 22 miles north of the historical Bisbee mining camp which has produced more than 8 billion pounds of copper with grades of up to 23%. Production from the Bisbee mining camp is not necessarily indicative of the mineral potential at the Corral Copper Project.
Corral Copper consists of 8,500 acres (13 square miles) of mineral rights and over 1,700 acres of surface rights and ownership from patented rights.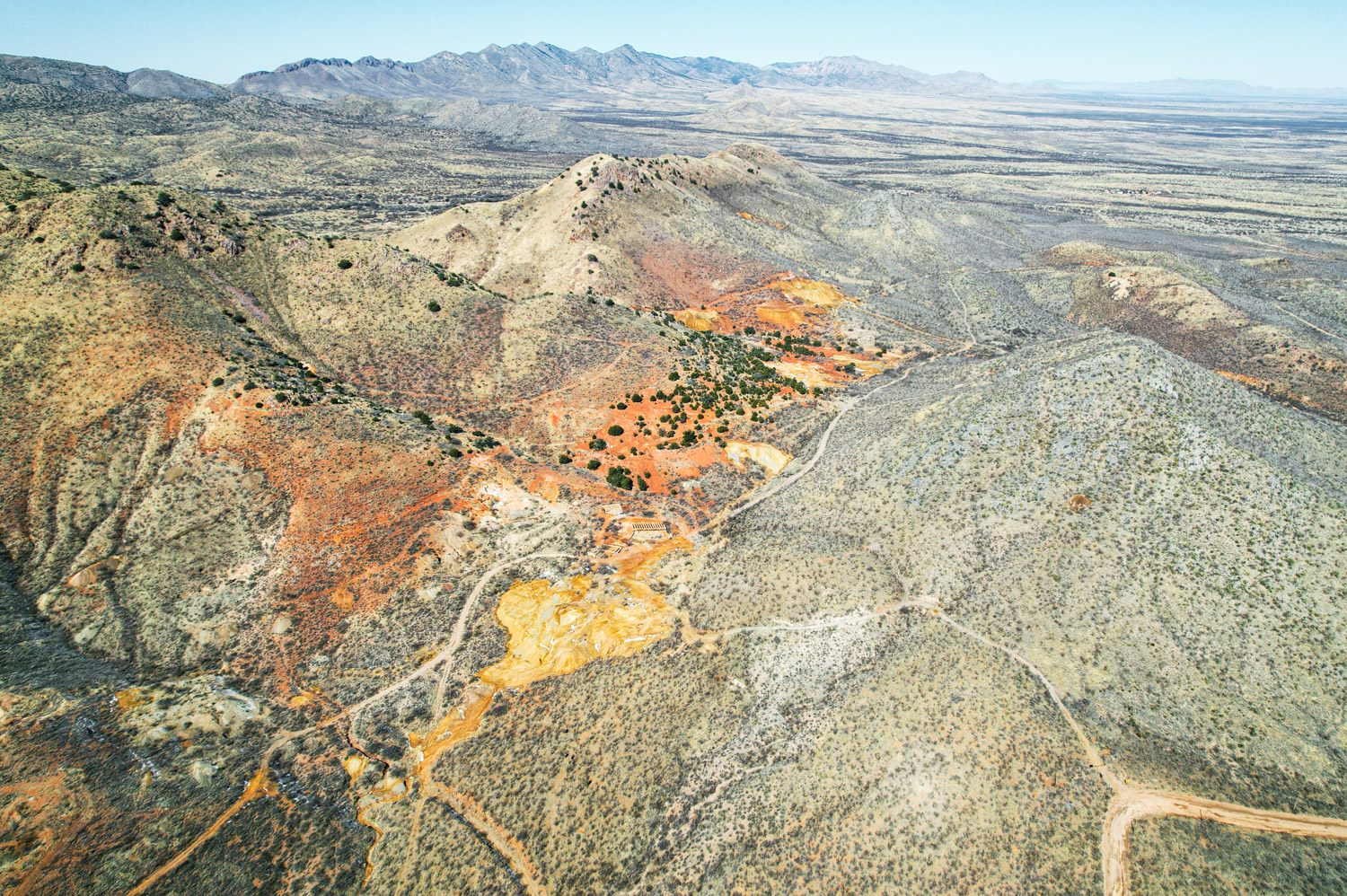 Mining History
The district has a mining history dating back to the late 1800s, with several small mines extracting copper from the area in the early 1900s, producing several thousand tons with grades up to 9.2% copper ore. Between 1950 and 2008, various companies explored parts of the district, but the effort was uncoordinated, non-synergistic and focused on discrete land positions and commodities due to the fragmented ownership. Intrepid has been able to secure data from various sources which provides a solid foundation in creating geological interpretations and identifying new target areas.
Anglo American began exploring the district in 2016, conducted mapping and airborne geophysics which identified numerous new target areas through the district. Intrepid has acquired Anglo American's data package and in exchange, Anglo American has retained an interest over a portion of the project area in the form of a right of first refusal over transfers if certain conditions are met.

Over 50,000m of historical drilling has been completed within the district, with significant near surface intercepts, including 126.2m (30.4m to 156.6m) of 1.24% copper in Drill Hole 20_01. This drill result is historical in nature. Intrepid has not undertaken any independent investigation ofthe sampling nor has it independently analyzed the results of the historical exploration work in order to verify the results. Intrepid considers these historical drill results relevant, as the Company will use this data as a guide to plan future exploration programs. Intrepid also considers the data to be reliable for these purposes; however, the Company's future exploration work will include verification of the data through drilling.
Intrepid's Plan
Intrepid is confident that by combining modern exploration techniques with historical data and with a clear focus on responsible development, the Corral Copper Project can quickly become an advanced exploration stage project and move towards feasibility level studies. More details about the Corral Copper Property and the plans for 2023 will be released soon.