Highlights
Potential to discover substantial, high-grade silver/lead/zinc veins and carbonate replacement deposit ("CRD") similar to those mined nearby
Proximate to productive Tombstone base metal district and to billion-dollar copper deposits
Geological similarities to Taylor deposit bought by South 32 for $1.3B in 2018
High grade intersections on the property in historic drilling
Drill permits granted

Tombstone South Story with Chris Osterman
Ideally Located
Known political environment and State Land
2 hours from Tucson, a major mining centre
Full power and road infrastructure
Surrounded by major deposits
The Tombstone South Property is located approximately 5.6 kms southwest of the town of Tombstone, Arizona, USA which occupies the center of the historic Tombstone Mining District (over 30M ounces of silver produced). The Tombstone mining district is approximately 113 kilometers southeast of Tucson, Arizona and is easily accessible. The Property consists of 39 unpatented federal mining claims and six Arizona State Prospecting Permits comprising a total of 1,335 hectares.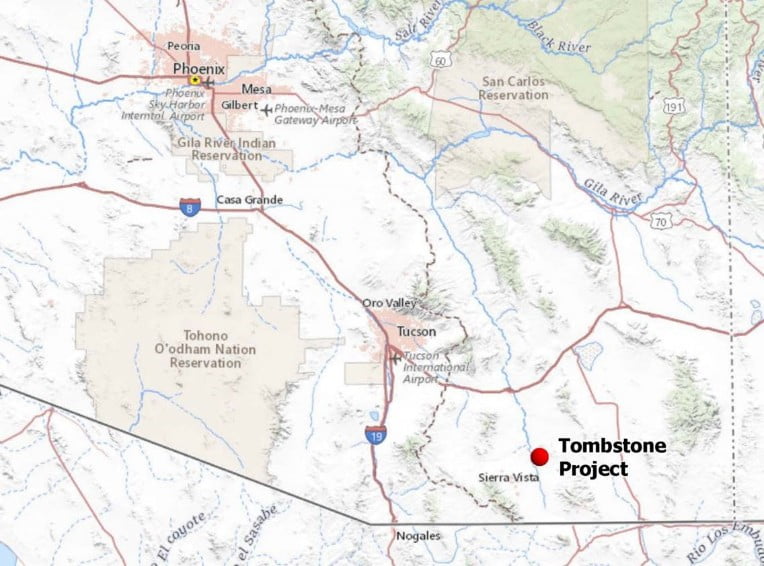 Tombstone South is surrounded by major deposits:
32km north of Bisbee (Major Copper Deposit)
40km southwest of Courtland Gleeson (63Mt at 0.56% copper)
75km Northeast of the Taylor Deposit (100Mt at 8% lead-zinc), which was bought for US$1.3B in 2018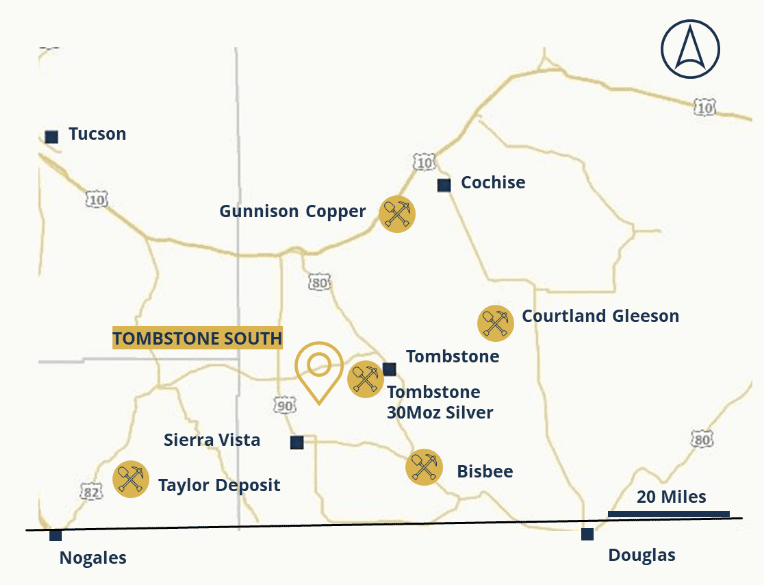 Target Concept
The main Tombstone District is famous as a host for high-grade silver / lead / zinc replacement bodies, fissures and veins that have yielded a historic production (1880's to 1930's) of over 30 million ounces of silver. The deposits are in Cretaceous carbonate rocks. The Cretaceous carbonate host rocks at Tombstone are underlain by Paleozoic carbonate rocks. Historic data suggests that productive stratigraphic horizons and structures similar to those in the main Tombstone District may be present on the Tombstone South Property.
Two exploration targets exist at Tombstone South:
1) Tombstone type polymetallic (silver / lead / zinc) carbonate replacement deposit in Cretaceous Bisbee group
2) Deeper polymetallic (silver / lead / zinc) type carbonate replacement deposit and skarns at the Cretaceous - Paleozoic contact. This horizon hosts the Taylor Deposit – the most successful recent Base Metal/Silver discovery of the last decade (sold in 2018 for USD 1.3B). The contact zone on Tombstone South, including its proximity to low grade porphyry copper deposits and high-grade silver deposits, presents a very favourable setting for Taylor deposit style mineralization.
Tombstone South has all the right components to discover another Taylor Deposit.
The mineralization at the Taylor deposit is not necessarily indicative of the mineralization on the Tombstone Property.
Intrepid's Plan
Following the successful completion of a ground-based geophysical survey at the Tombstone South Property, Intrepid is planning a 3000 metre drill program, which is expected to take place in Q1 2023. The drill permits have already been granted and US$940,000 has been budgeted for the drill program as well as archeological and environmental studies. The objective of the drill program is to confirm historic drilling to NI 43-101 standards and to expand on the mineralized footprint.
Assuming successful exploration results from the work plan described above, Intrepid intends to conduct further work programs and studies. This work is expected to include additional drilling, sampling and analysis and geological modelling.